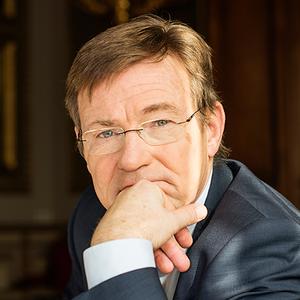 Johan Van Overtveldt
Minister of Finance
Belgian Government
(Belgium)
Johan Van Overtveldt (°1955) holds a Ph.D. in Applied Economics from the University of Antwerp as well as an MBA from the University of Leuven.
Johan Van Overtveldt started his career as a journalist for Trends, Belgium's leading business magazine in 1978. In 1982 he went on to pursue a career in business and finance. In the ensuing ten years he worked in banking, the manufacturing sector and the clothing industry. In 1992 he returned to Trends to become Editor in Chief. Subsequently he became an advisor for a construction firm as well as the General Director of an employers' organisation before finally returning to Trends for a second time in 2010. From September 2011 until October 2012 he became Editor in Chief for Knack, a weekly news magazine. As from 2012 he has been a part time macro-economics professor at the University of Hasselt.
During the European elections in 2014, he was elected as a Member of the European Parliament. In October of that same year he took on the mandate of Federal Finance Minister in the current Belgian government. Johan Van Overtveldt lives near Antwerp and is a father of four. In his spare time, you can find him out on his racing bike.
arrow_upward