Discover our 1 mn video teaser
The most exclusive digital finance and fintech event in Europe !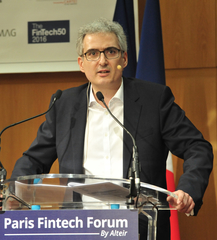 By Laurent Nizri, Alteir Consulting CEO, founder of Paris Fintech Forum event & Acsel Vice President.
Following the huge success of 2017 edition, Paris Fintech Forum 2018, organized by Altéir with the support of 60+ international partners next January 30th & 31st, aims to gather 2,000+ attendees over 2 days in the very heart of Paris, to listen to 200+ CEO's and c-levels from banks, insurance, telco, regulators and of course Fintechs from all continents.
Over 150 Fintechs CEOs from all over the world will be in both panels & interviews and on our stage dedicated to pitches & showcases. Most of those Fintech will also be present in our exhibition hall in one of our 100+ Fintech pods.
During these two days we'll address all key issues at the heart of the news of digital finance in general and Fintech in particular. To host this international event we have booked a mythical place in our industry: the former French stock market exchange in the heart of Paris, fully privatized for this great occasion.
Some key points in preview:
A planned event over 2 days to support real exchanges between players of different ecosystems,
More than 200 speakers and 2000+ delegates from 45+ countries,
3 stages for Keynotes, Panels & Interviews, bringing together speakers bankers, insurers, telecoms operators, regulators and Fintechs worldwide,
1 stage dedicated to pitches & showcases of 130+ Fintech pitches from Europe, the USA, Asia and Africa,
2 rooms of thematic workshops with our partners,
1 exhibition hall over two storeys with players from Europe and elsewhere and more than 50 different Fintech boothes each days,
4 innovation lounges hosted by our partners,
3 networking lounges to facilitate business exchanges between participants,
1 Gala Dinner at the Intercontinental Opera hotel the 30/01 (on invitation only), and 1 closing party, the Paris Fintech Night, open to all our attendees the 31/01,
Paris Fintech Forum Awards given by an international jury,
A new edition of "Altéir Fintech Selection Book" presenting the 120+ selected Fintechs in details,
80+ partners & sponsors, including many key associations and international fintechs hubs,
Free breakfast and lunches for all attendees,
Simultaneous English / French translation in both directions,
Several side events organized with our partners ...
We'll come back 30 & 31 January 2018, join us to make Paris the beating heart of the digital finance and Fintech in Europe.
Stay tuned on @ParisFinforum & on this website to be the first to register and enjoy our early birds !!
Agenda & Venue
Schedule : January 30 & 31 (Tuesday & Wednesday), 2018 from 7:30 am to 7:00 pm
NB: breakfasts & lunches (12:40 -14:20) served to all attendees both days
2018 Edition agenda will be available next January. In the meantime you can access to the full previous edition program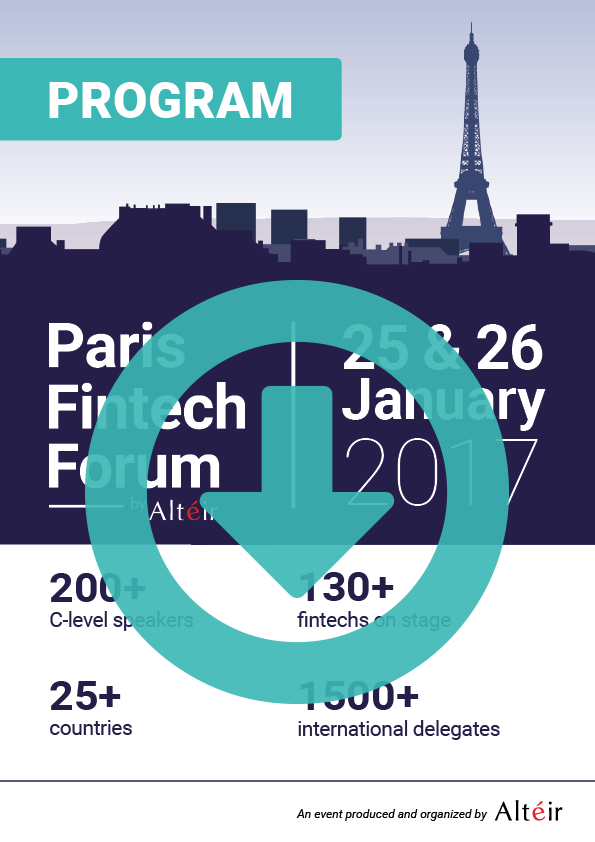 click on the picture to download 2017 edition program
Location :
Palais Brongniart, former French Stock Market exchange, in the very center of Paris
28, Place de la Bourse 75002 Paris (more info on this exclusive venue place here)
Main theatre + 2 other stages: Keynotes, Interviews & panels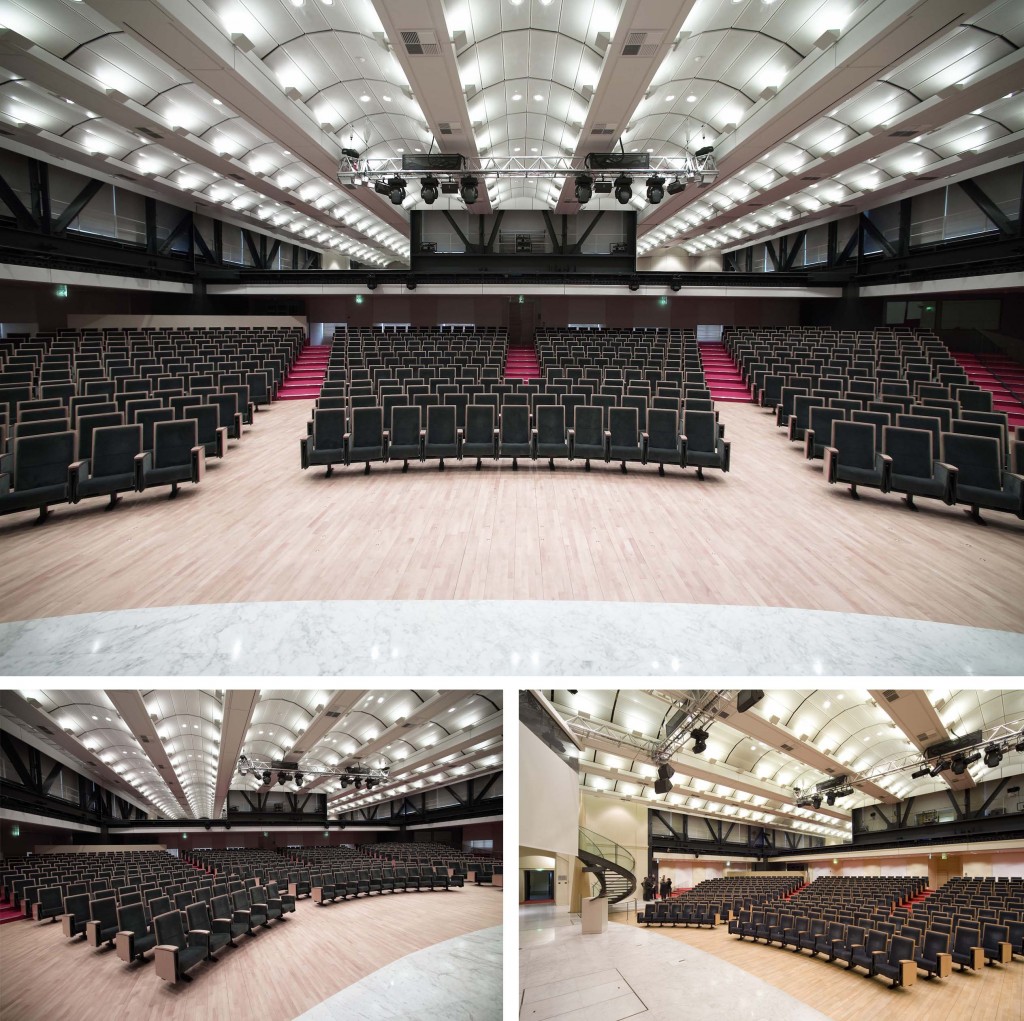 We are organizing two full days of debates, panels, interviews and keynotes. We will bring together on 3 parallel stages (900 seats) key CEO's and senior executives of international financial ecosystem players as well as recognized Fintech CEO's.
Among the key topics to be discussed:
Coopetition : Innovation in financial institutions, how to work together with fintechs
Insurtech : The time for real disruption ?
Payment : What comes next ?
Wealth management : the new gold mine ?
Private banking disruption at Fintech age
Crowdlending : consolidation time ?
SMB's market : goldmine or impossible one ?
Blockchain future and over buzz
Neo banks Vs market reality
Transfers & remittance : the new players
Fintech Vs employment
International development
Emerging fintechs market's ecosystem (Africa, India, …)
Growth Vs fintech : from early stage to unicorn ?
Regulation in Europe : Path for disruption ?

How to promote the development of major European-level players ?

Testimonies of Fintech's founders success stories,

The place of France in the development of new digital finance services,

Which business models for these new financial players?

Data privacy, monetization and fintechs,

Mobile banking 3.0: media buzz or short term reality

...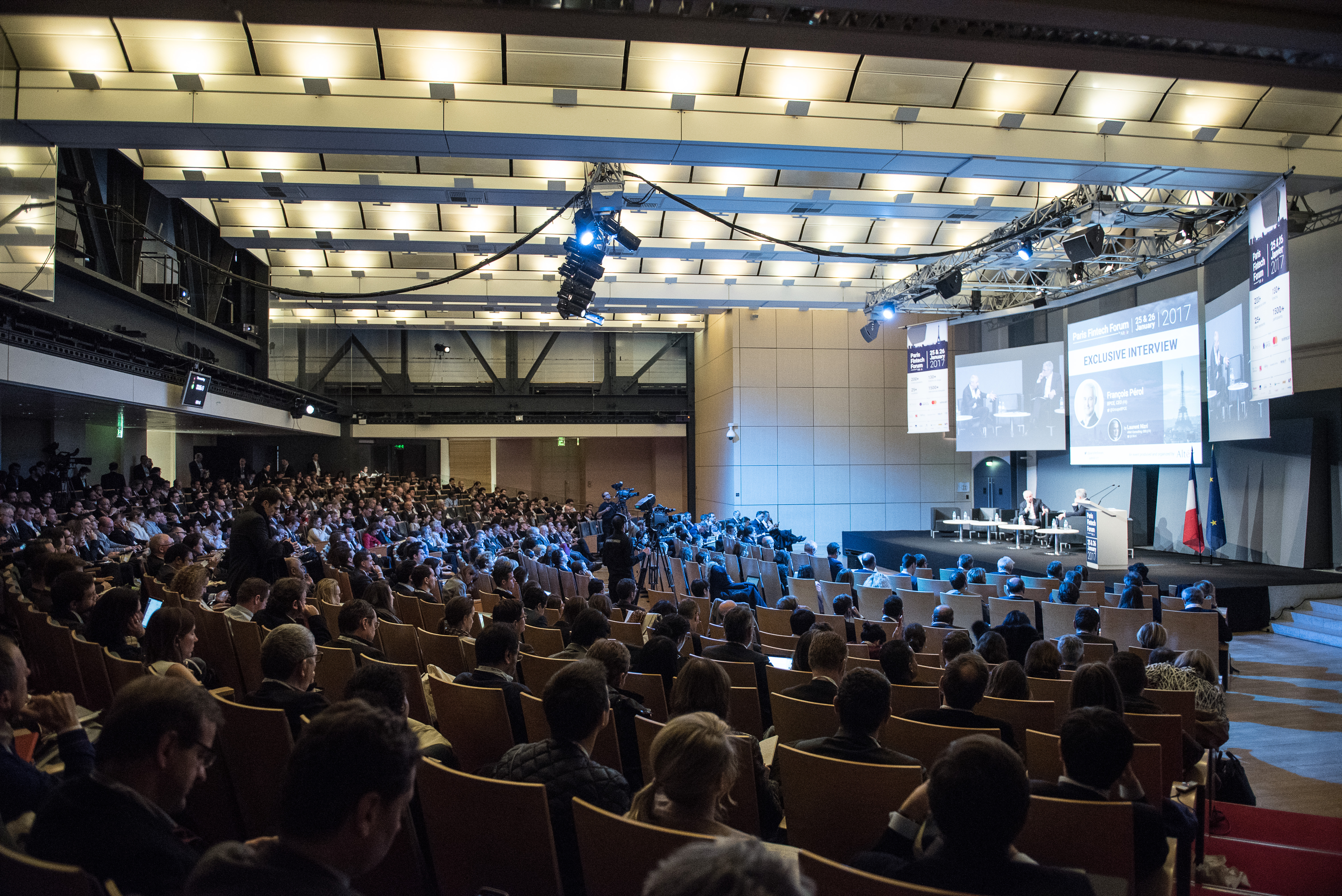 Showcase stage : 130+ Fintech from all around the world, on stage to present their innovations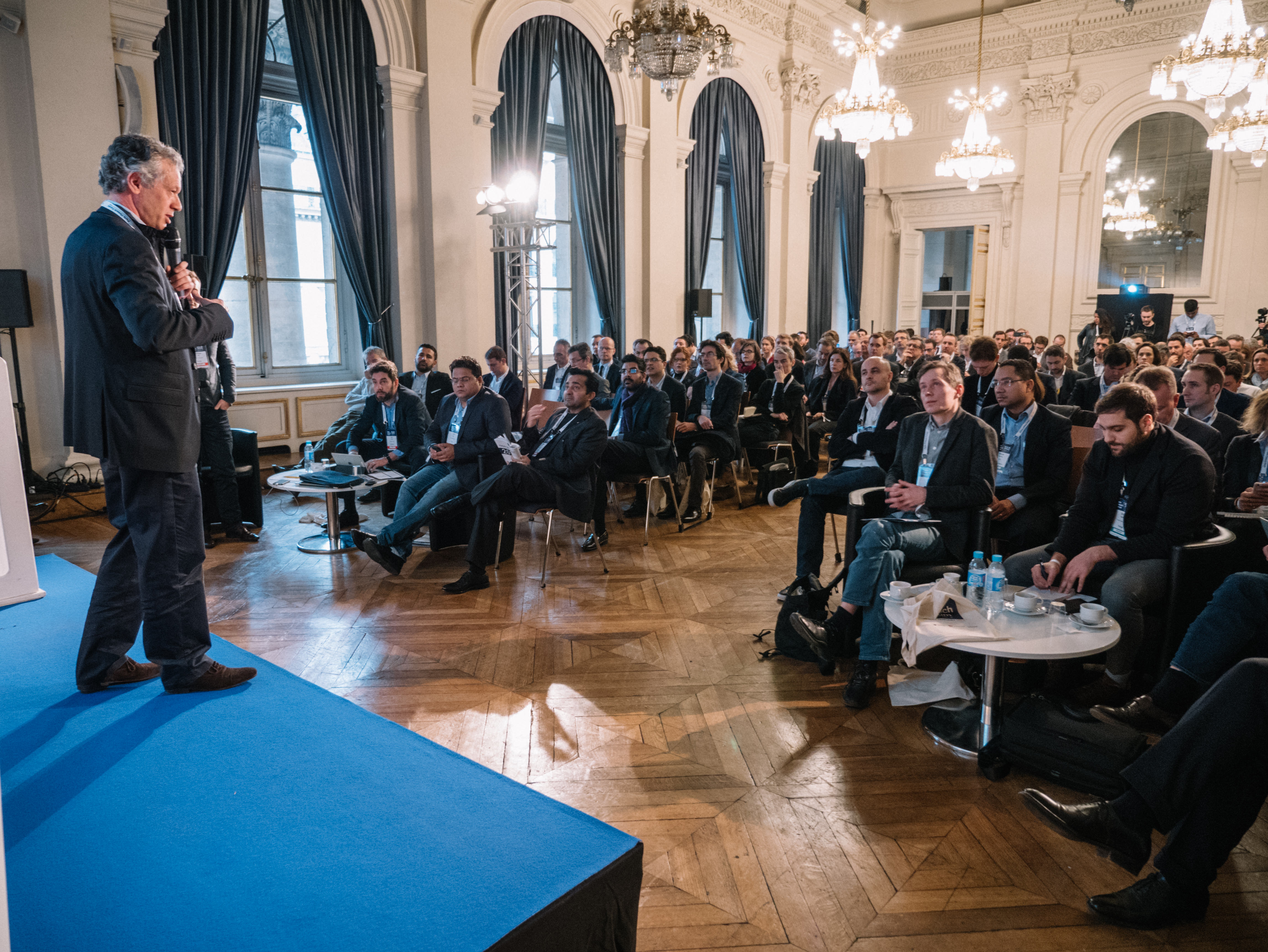 In parallel to the conference sessions, Fintech from all over the world will have the opportunity to present their offers on a dedicated stage (200 seats).
– 130+ fintechs will present their offer during a série of 4 to 6 mn pitches + public Q&A.
– the fintech selection contest to be on that stage (and in the associated handbook) is already open. You are a Fintech, click here
Main Hall: Exhibition, catering & networking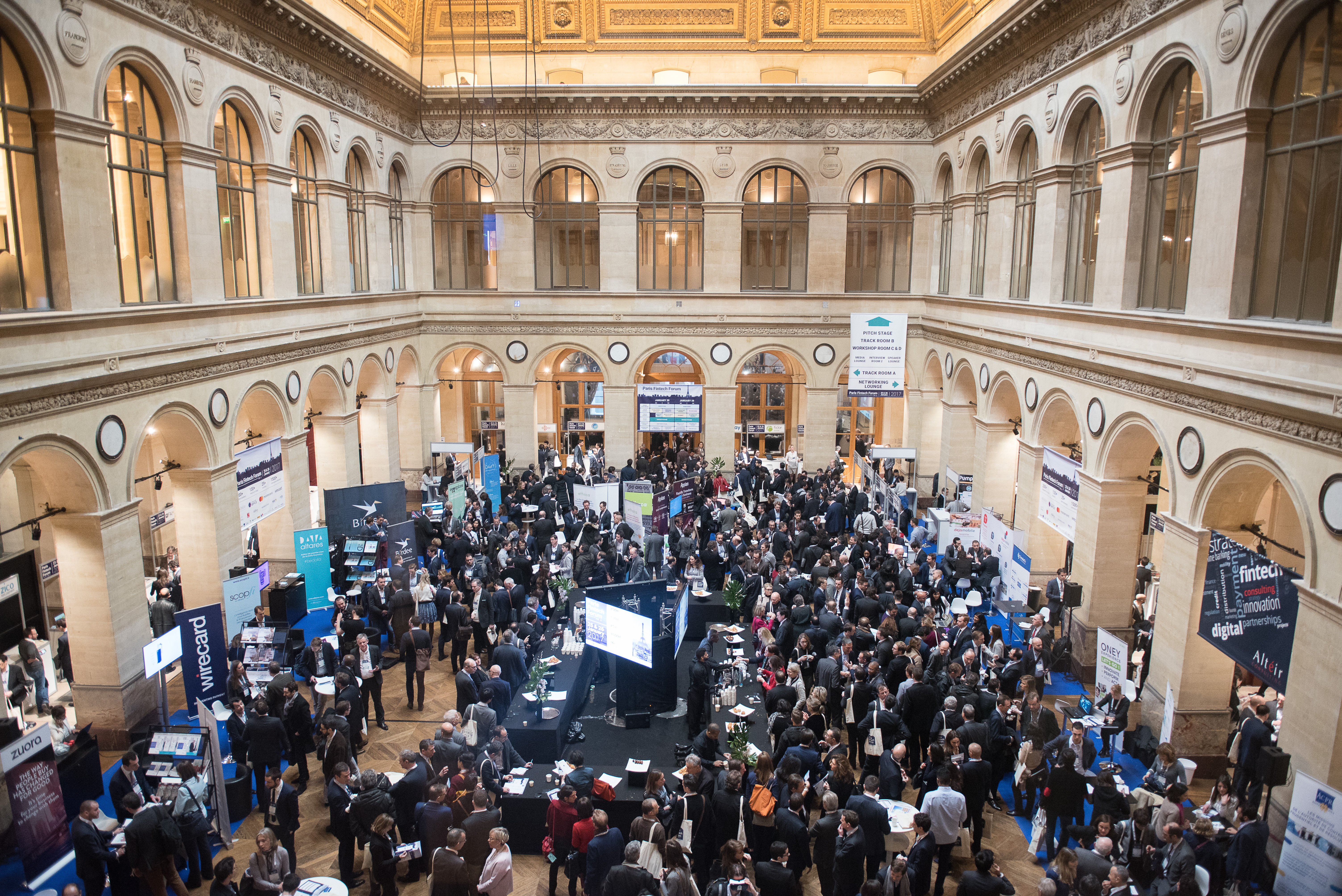 A dedicated exhibition hall spread over 2 floors with 130+ stands of Fintechs & financial actors will welcome you all day long. The 50 Fintech booths will be different each day in order to let 100 of them be on the exhibition hall over the 2 days.
It will give ample time for participants to network together during the event.
The Paris Fintech parties
Other styles, other locations for the great Fintech networking parties:
the cocktail & networking dinner the 30/01 (by invitation only),
The closing party the 31/01 open to all our attendees,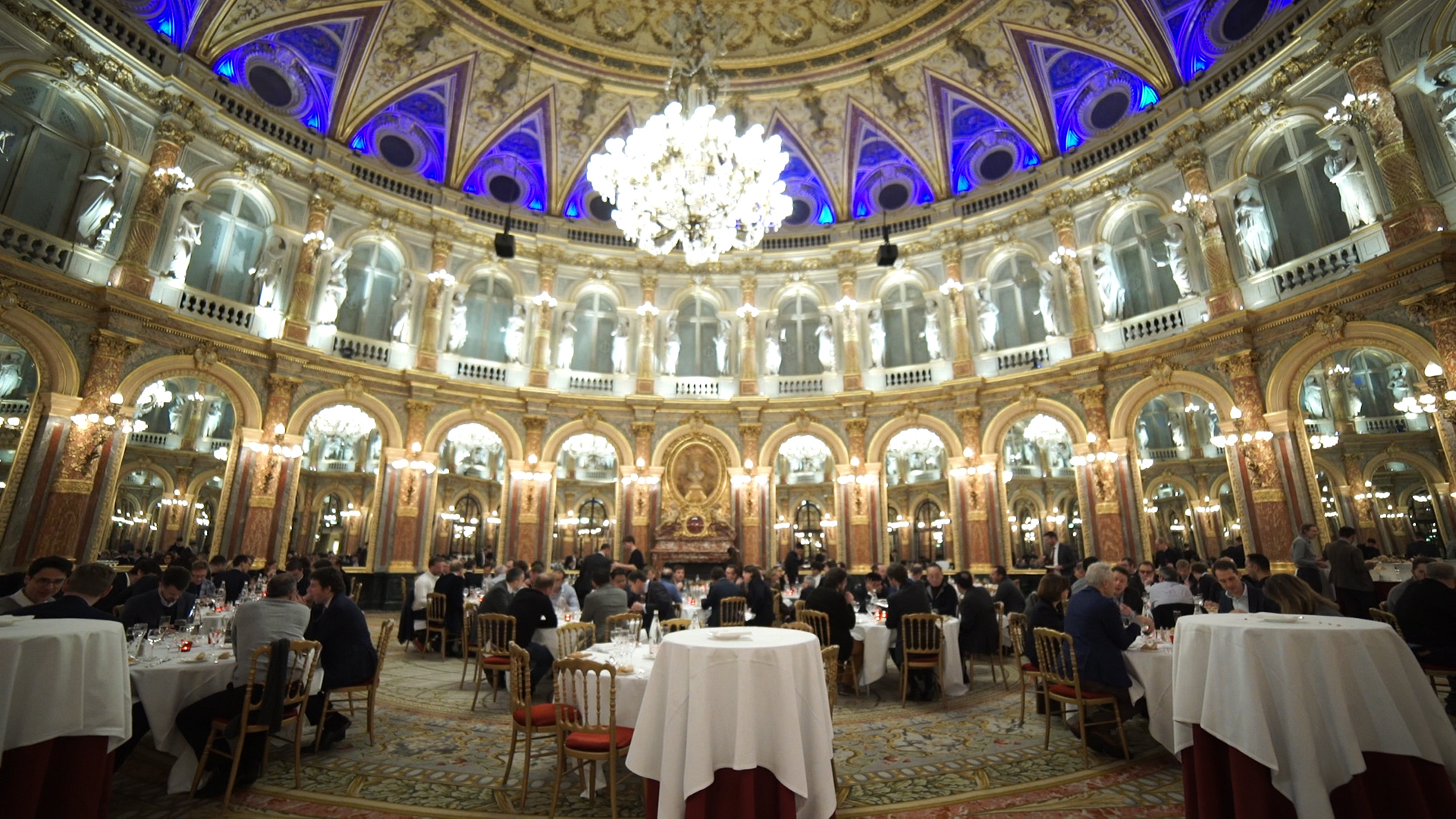 Speakers 2018
200+ speakers on 4 main stages for 2 days will be there for 2018 edition. Among them 130+ Fintech's CEO.
You want to be a speaker: you are a fintech, click here, otherwise click here
2018 edition speakers will be announced progresively from next October. Find below the first confirmed one:
(you may also discover the 2017 Edition speakers in the 2017 replay pages)
François Villeroy de Galhau
Governor
Banque de France
(France)
Wim Mijs
CEO
European Banking Federation
(Belgium)
François Pérol
CEO
BPCE
(France)
Frédéric Oudéa
CEO
Société Générale
(France)
Gottfried Leibbrandt
CEO
SWIFT
(Belgium)
Taavet Hinrikus
Chairman
TransferWise
(United Kingdom)
Rob Frohwein
CEO
Kabbage
(United States)
Giles Andrews
Chairman
Zopa
(United Kingdom)
Jacob de Geer
CEO
iZettle
(Sweden)
Valentin Stalf
CEO
N26
(Germany)
Stéphane Richard
CEO
Orange
(France)
David Rutter
CEO
R3
(United States)
Teppo Paavola
CEO
BBVA New Digital Businesses
(Spain)
Pascal Demurger
CEO
MAIF
(France)
Olivier Guersent
Director General, for Financial Stability, Financial Services and Capital Markets Union
European Commission
(Belgium)
Scott Walchek
CEO
Trov
(United States)
Joseph Lubin
CEO
Consensys
(United States)
Jason Gardner
CEO
Marqeta
(United States)
Anne Boden
CEO
Starling Bank
(United Kingdom)
Geoffroy Guigou
CEO
Younited Credit
(France)
Ronan Le Moal
CEO
Crédit Mutuel Arkea
(France)
Klaus Hommels
CEO
Lakestar
(Switzerland)
Kim Fournais
CEO
Saxo Bank
(Denmark)
Philippe Vallee
CEO
Gemalto
(Netherlands)
Gilles Gade
CEO
Cross River
(United States)
Ismail Ahmed
CEO
WorldRemit
(United Kingdom)
Igal Rotem
CEO
Credorax
(Israel)
Ivan Glazachev
CEO
Yandex Money
(Russian Federation)
Yashish Dahiya
CEO
Policy Bazaar
(India)
Nikolay Storonsky
CEO
Revolut
(United Kingdom)
Luis Valdich
Managing Director
Citi Ventures
(United States)
Paolo Sironi
FinTech Thought Leader
IBM
(Germany)
Sean Park
Founder
Anthemis Group
(United Kingdom)
John Rosenberg
General Partner
TCV
(United Kingdom)
Philippe Collombel
Managing Partner
PARTECH VENTURES
(France)
Ludovic Le Moan
CEO
Sigfox
(France)
Nick Ogden
Chairman
ClearBank
(United Kingdom)
Ben Milne
CEO
Dwolla
(United States)
Olga Feldmeier
CEO
SmartValor
(Switzerland)
Ricky Knox
CEO
Tandem
(United Kingdom)
Arnaud Caudoux
Deputy CEO
Bpifrance
(France)
Oliver Bussmann
Managing Partner
Bussmann Advisory
(Switzerland)
Mariano Belinky
Managing Partner
Santander InnoVentures
(United Kingdom)
Philippe Botteri
Partner
Accel
(United States)
Oliver Harris
FinTech and In-Residence lead
J.P. Morgan
(United Kingdom)
Hiroki Takeuchi
CEO
GoCardless
(United Kingdom)
Michael Kent
CEO
Azimo
(United Kingdom)
Jeremy Achin
CEO
DataRobot
(United States)
Tamaz Georgadze
CEO
Raisin
(Germany)
Olivier Goy
CEO
Lendix
(France)
Matteo Carbone
Founder
Connected Insurance Observatory
(Italy)
Ghela Boskovich
Founder
FemTechGlobal
(United Kingdom)
Pedro Pinto Coelho
Chairman
Banco BNI Europa
(Portugal)
David Goldberg
CEO & Co-Founder
Founders Pledge
(United Kingdom)
Pascal Bouvier
Venture Partner
Santander InnoVentures
(United Kingdom)
Philippe Gelis
CEO
Kantox
(United Kingdom)
Matthias Knecht
CEO
Billie
(Germany)
Jake Tyler
CEO
Finn.ai
(Canada)
Daniel Peled
CEO
PayKey
(Israel)
Carlos Sanchez
CEO
Ipagoo
(United Kingdom)
Stéphane Boujnah
CEO
Euronext
(Netherlands)
Rana Kapoor
CEO
Yes Bank
(India)
Laurent Nizri
CEO
Alteir Consulting
(France)
Jacques Richier
CEO
Allianz
(France)
Nadeem Shaikh
CEO
Anthemis Group
(United Kingdom)
Laurent Le Moal
CEO
PayU
(Netherlands)
Alexander Graubner-Müller
CEO
Kreditech
(Germany)
Jens Woloszczak
CEO
Spotcap
(Germany)
Harold Montgomery
CEO
Money On Mobile
(United States)
Christoph Rieche
CEO
Iwoca
(United Kingdom)
Lasse Mäkelä
CEO
Invesdor
(Finland)
Norris Koppel
CEO
Monese
(United Kingdom)
Martin Froehler
CEO
Quantiacs
(United States)
Rania Belkahia
Chairman
AfriMarket
(France)
Alexandre Prot
CEO
Qonto
(France)
Julian Teicke
CEO
WeFox
(Switzerland)
Bruno Van Haetsdaele
CEO
Linxo
(France)
David Parker
CEO
Polymath Consulting
(United Kingdom)
Jason Oxman
CEO
Electronic Transaction Association
(United States)
Nasir Zubairi
CEO
Luxembourg House of Financial Technology
(Luxembourg)
Therese Torris
Journalist
Crowdfund Insider
(United States)
Raffael Johnen
CEO
Auxmoney
(Germany)
Richard Caetano
CEO
Stratumn
(France)
Lilian Makoi
Founder
JamiiAfrica
(Tanzania, United Republic of)
Michal Smida
CEO
Twisto
(Czech Republic)
Cameron Stevens
CEO
Prodigy Finance
(United Kingdom)
Jonathan Chester
Chairman
Bitwage
(United States)
David Blumberg
Managing Partner
Blumberg Capital
(United States)
Jay Sidhu
CEO
BankMobile
(United States)
Paul Mizrahi
Founding Partner
BlackFin Capital Partners
(France)
Jaidev Janardana
CEO
Zopa
(United Kingdom)
Hervé Hatt
CEO
MEILLEURTAUX.COM
(France)
Boris Batin
CEO
ID Finance
(Spain)
Tim Sievers
CEO
Deposit Solutions
(Germany)
Oyvind Oanes
CEO
Numbrs
(Switzerland)
Bundeep Singh Rangar
CEO
PremFina
(United Kingdom)
Jean-Charles Samuelian
CEO
Alan
(France)
Our Fintech Selection
From August to October 2017 a fintech selection process is ongoing on our website. To date we already received more than 650 applications from 50+ countries!
If you want o be part of 2018 Edition program, you just have to fill the form here.
Until we disclose the 2018 Edition Fintech selection, you can discover in our 2017 replay pages the 130+ fintechs from 26 countries who were on stage for the 2017 Edition last January. You may also want to buy our "Altéir Fintech Selection Book, 2017 Edition" with detailed infos on each selected Fintech by clicking here
Associations & communities
---
arrow_upward