Palais Brongniart
Paris center
160+ C-level speakers
120 Fintech from 20+ countries
1200+ international delegates
The main digital finance and fintech event in Europe !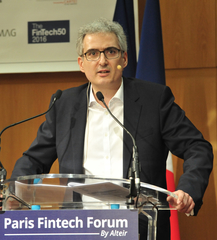 By Laurent Nizri, Alteir Consulting CEO, founder of Paris Fintech Forum event & Acsel Vice President.
The Paris Fintech Forum 2017, organized by Altéir with the support of 60+ international partners, aims to bring together 2,000 participants over 2 days in the heart of Paris on 25 and 26 January 2017, to listen to 160 CEO's from banks, insurance, telco, regulators and of course Fintech from all continents.
Over 120 Fintech from all over the world will be represented in both panels & interviews and within 100 pitches sessions.
During these two days we will address all issues at the heart of the news of digital finance in general and Fintech in particular. To host this international event we have booked a mythical place in our industry: the former French stock market exchange in the heart of Paris, fully privatized for this great occasion.
Some key points in preview:
A planned event over 2 days to support real exchanges between players of different ecosystems,
High patronage of French ministry of Finance, Economy, Industry and digital affairs,
A total of over 160 speakers and 1,200 delegates expected each day,
2 scenes for Keynotes, Panels & Interviews, bringing together speakers bankers, insurers, telecoms operators, regulators and FinTech worldwide,
1 stage dedicated to the presentation of more than 100 Fintech pitches from Europe, the USA, Asia and Africa,
3 rooms of thematic workshops,
1 exhibition hall with players from Europe and elsewhere and more than 50 different Fintech boothes each days,
1 gala dinner (on invitation only),
The Paris Fintech Forum Awards awarded by an international jury,
A new edition of "Altéir Fintech Selection Book" presenting the 100+ selected Fintechs in details,
More than 60 partners & sponsors, including many key associations and international fintechs hubs.
Simultaneous English / French translation in both directions ...
Join us to make Paris the beating heart of the digital finance and Fintech in Europe in January. Registrations are now open !! Don't miss the exceptionnal EARLY BIRD OF -10% until end of December!
Enjoy now exceptional 10% rebate !
Agenda & Venue
Program still under construction, detailed agenda to be published later
Schedule : January 25 & 26, 2017 from 8:30 am to 7:00 pm
Location :
Palais Brongniart, former French Stock Market exchange, in the very center of Paris
28, Place de la Bourse 75002 Paris (more info on this exclusive venue place here)
Main theatre & Auditorium : Keynotes, Interviews & panels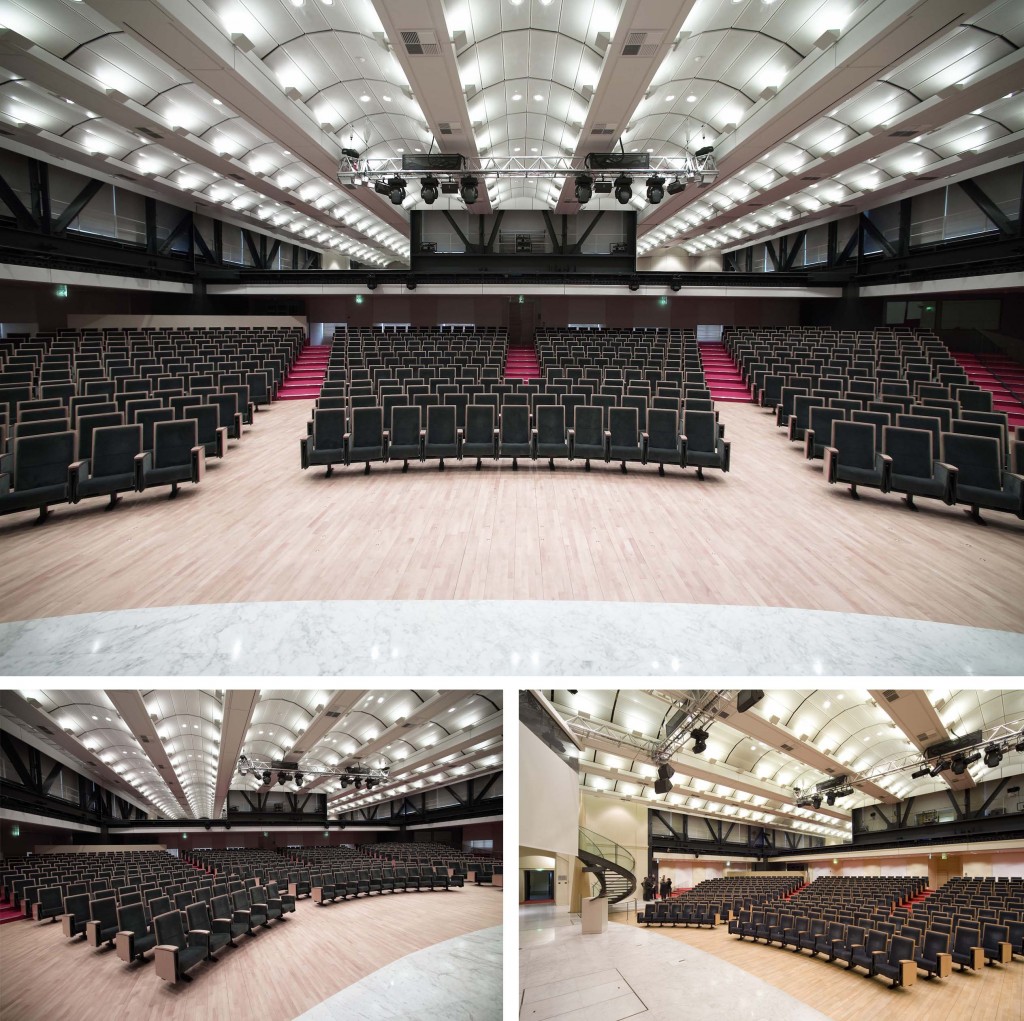 We are organizing two full days of debates, panels, interviews and keynotes. We will bring together on 2 parallel stages (850 seats) key CEO's and senior executives of international financial ecosystem players as well as recognized Fintech CEO's.
Among the key topics to be discussed:
Coopetition : Innovation in financial institutions, how to work together with fintechs
Insurtech : potential and issues in Europe ?
Payment : What comes next ?
Wealth management : the new gold mine ?
Private banking disruption at Fintech age
Crowdlending : consolidation time ?
SMB's market : goldmine or impossible one ?
Blockchain future and over buzz
Neo banks Vs market reality
Transfers & remittance : the new players
Fintech Vs employment
International development
Emerging fintechs market's ecosystem (Africa, India, …)
Growth Vs fintech : from early stage to unicorn ?
Regulation in Europe : Path for disruption ?

How to promote the development of major European-level players ?

Testimonies of Fintech's founders success stories,

The place of France in the development of new digital finance services,

Which business models for these new financial players?

Data privacy, monetization and fintechs,

Mobile banking 3.0: media buzz or short term reality

...
Pitch stage : 100 Fintech Pitches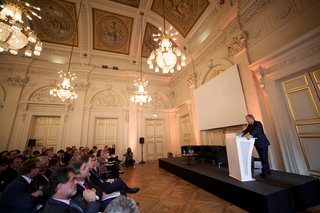 In parallel to the Main Theatre & Auditorium sessions, fintech startups from all over the world will have the opportunity to present their offers on a dedicated stage (200 seats).
– 100 fintechs will present their offer during a série of 4 mn pitches +3 mn jury Q&A. Awards will be given to the best innovation in different fintech categories.
– the fintech selection contest to be on that stage (and in the associated handbook) led us to receive more than 500 applications from almost 40 countries.
Main Hall: Exhibition, relaxing & networking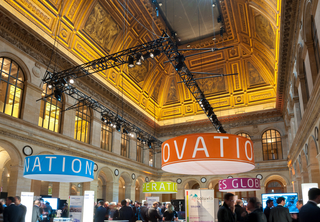 A dedicated exhibition hall with 70+ stands of Fintechs & financial actors will welcome you for the numerous session breaks and the networking lunchs. The 50 Fintech booths will be different each day in order to let 100 of them be on the exhibition hall over the 2 days.
It will give ample time for participants to network together during the event.
Gala diner : Paris Fintech Night
Another style, another location for the great Fintech networking dinner evening in the heart of Paris. More information to come later (Invitation only event)
Speakers
160 speakers on 3 main stages and 3 workshop rooms for 2 days will be there for 2017 edition. Among them 120 Fintechs selected among 500 applications from almost 40 countries.
Already more than 80 CEOs from banks, insurers, VCs, and of course Fintechs confirmed their participation. First confirmed speakers are below, many more to come... Stay tuned on this web site and on @ParisFinForum for more info !
You think you should be on stage ? ask for speakership
François Villeroy de Galhau
Governor
Banque de France
(France)
François Pérol
CEO
BPCE
(France)
Frédéric Oudéa
CEO
Société Générale
(France)
Thomas Buberl
CEO
Axa Group
(France)
Michel Sapin
Minister of Economy & Finance
Ministère de l'Economie et des Finances
(France)
Ismail Ahmed
Founder & CEO
Worldremit
(United Kingdom)
Mark Mullen
CEO
Atom Bank
(United Kingdom)
Alexander Graubner-Muller
Founder & CEO
Kreditech
(Germany)
Paolo Galvani
Co-founder & Chairman
Moneyfarm
(United Kingdom)
Valentin Stalf
Founder & CEO
N26
(Germany)
Ronan Le Moal
CEO
Crédit Mutuel Arkea
(France)
Axelle Lemaire
Minister of State for Digital Affairs
Ministère de l'Economie et des Finances
(France)
Nicolas Dufourcq
CEO
BPI France
(France)
Marc Rennard
Deputy CEO
Orange
(France)
Sofia Merlo
Co-CEO Wealth Management
BNP Paribas
(France)
Ricky Knox
Founder & CEO
Tandem
(United Kingdom)
Cédric Teissier
Founder & CEO
Finexkap
(France)
Yoni Assia
Founder & CEO
eToro
(Israel)
Olivier Goy
Founder & CEO
Lendix
(France)
Matthias Kroener
CEO
Fidor
(Germany)
Jan Marsalek
COO
Wirecard
(Germany)
Ignacio Juliá Vilar
CIO
ING
(Netherlands)
Khalid Fellahi
General Manager
Western Union Digital
(United States)
Edouard Fernandez- Bollo
Secretary General
ACPR
(France)
Mariano Belinky
Managing Partner
Santander InnoVentures
(United Kingdom)
Sergio Chalbaud
CEO
Fintonic
(Spain)
Michael Kent
CEO
Azimo
(United Kingdom)
Stefan Klestil
Partner
Speedinvest
(Austria)
Céline Lazorthes
CEO
Leetchi - Mangopay
(France)
Michael Laven
CEO
Currency Cloud
(United Kingdom)
Nicolas Lesur
CEO
Unilend
(France)
Johan Lorenzen
CEO
Holvi
(Denmark)
Patrick Meisberger
Managing Director
CommerzVentures
(Germany)
Mircea Mihaescu
COO
Moven
(United States)
Vladislav Solodkiy
Managing Partner
Life.SREDA VC
(Singapore)
Jean-Marie Messier
Messier Maris & Associés
(France)
Amit Shah
Senior President
YES BANK
(India)
Ollie Purdue
CEO
Loot
(United Kingdom)
Marko Wenthin
CEO
solarisBank
(Germany)
Charles Beigbeder
President
Gravitation
(France)
Paolo Sironi
FinTech Thought Leader
IBM
(Germany)
Tony Craddock
General Manager
Emerging Payment Association
(United Kingdom)
Vincent Ricordeau
CEO
Kiss Kiss Bank Bank
(France)
Michel-Edouard Leclerc
CEO
E. Leclerc
(France)
Kai Schmitz
Principal Investment Officer
IFC - World Bank Group
(United States)
Julian Teicke
CEO
FinanceFox
(Switzerland)
Nigel Verdon
CEO
Railsbank
(United Kingdom)
Gilles Gade
CEO
Cross River Bank
(United States)
Georg Ludviksson
CEO
Meniga
(Iceland)
Oliver Rajic
CEO
AlphaPayments
(Singapore)
Clément Coeurdeuil
CEO
Budget Insight
(France)
Nicolas Gonzalez
CEO
Fundvisory
(France)
Alain Falys
CEO
Yoyo Wallet
(United Kingdom)
Sunil Madhu
CEO
Socure
(United States)
Ron Atzmon
Managing Director
Au10tix
(Cyprus)
Anatalio Ubalde
CEO
SizeUp
(United States)
Daniel Doderlein
CEO
Auka
(Norway)
Pierre-Antoine Dusoulier
CEO
Ibanfirst
(Belgium)
Tamaz Georgadze
CEO
Raisin
(Germany)
Eamon Jubbawy
COO
Onfido
(United Kingdom)
Shachar Bialick
CEO
Curve
(United Kingdom)
Mor Assia
Founding Partner
iAngels
(Israel)
Chris Plantener
CEO
Kontist
(Germany)
Jerome Favresse
CEO
Amareos
(Hong Kong)
Xavier de Labarrière
CEO
Fizen
(France)
David Guyot
CEO
Pandat
(France)
Nimrod Lehavi
CEO
Simplex
(107)
Manuel Hehle
CEO
Tradico
(Liechtenstein)
Johann Gevers
CEO
Monetas
(Switzerland)
Delber Lage
Chairman
SalaryFits
(United Kingdom)
Christopher Oster
CEO
Clark
(Germany)
Stephanie Hospital
CEO
OneRagtime
(United Kingdom)
Amit Goel
Managing Director
Let's Talk Payments
(United States)
Max Laemmle
CEO
Fraugster
(Germany)
Pedro Fonseca
CEO
CrowdProcess
(Portugal)
Markus Lampinen
Crowd Valley
(United States)
Stephanie Savel
CEO
WiSEED
(France)
Ramon Blanco
CEO
Indexa Capital
(Spain)
Philippe Gelis
CEO
Kantox
(231)
Matthew Gamser
CEO
SME FINANCE FORUM
(United States)
Tang Loaec
CEO
P2P Protect
(China)
Arturo Gonzalez
CEO
Eurobits Technology
(Spain)
Eric Barbier
CEO
TranferTo
(Singapore)
Johannes Vermeire
CEO
POM nv
(Belgium)
Audrey Stewart
CEO
ORIGIN Investing
(France)
Devie Mohan
CEO
Burnmark
(United Kingdom)
Snehal Fulzele
CEO
Cloud Lending Solutions
(United States)
see all confirmed speakers on stage see all confirmed companies on stage
Our Fintech Selection
In a few weeks we ll have finished to select 120 Fintech from more than 20 countries to be on stage 25 & 26 january 2017 at Paris Fintech Forum. More info to come in coming weeks on this website and on @ParisFinForum, so stay tuned ! More than half of them are already confirmed, you ll find their CEO in the speaker list.
In the meantime, you can:
Check which Fintech was there by looking at the list of the 79 fintechs from 12 countries who were on stage at the Paris Fintech Forum Janvier 28, 2016. Among them, 47 competed for the Paris Fintech Awards given by an international jury at the end of the day.
Look at the 100+ video sessions of Keynotes, panels and pitches
Associations & communities
---
arrow_upward